After a week of classes, lectures, and generally getting acclimated to life at the Centro with academic work, we had the chance Saturday to go to an exhibit on Augustus (unable to be photographed) and spend the rest of the day wandering around in Rome. For probably the first time since I've been here, it was a beautiful, cloudless day, which lent itself to some photography with my REAL camera (as opposed to my phone, which has been supplying most of the photos on this blog thus far).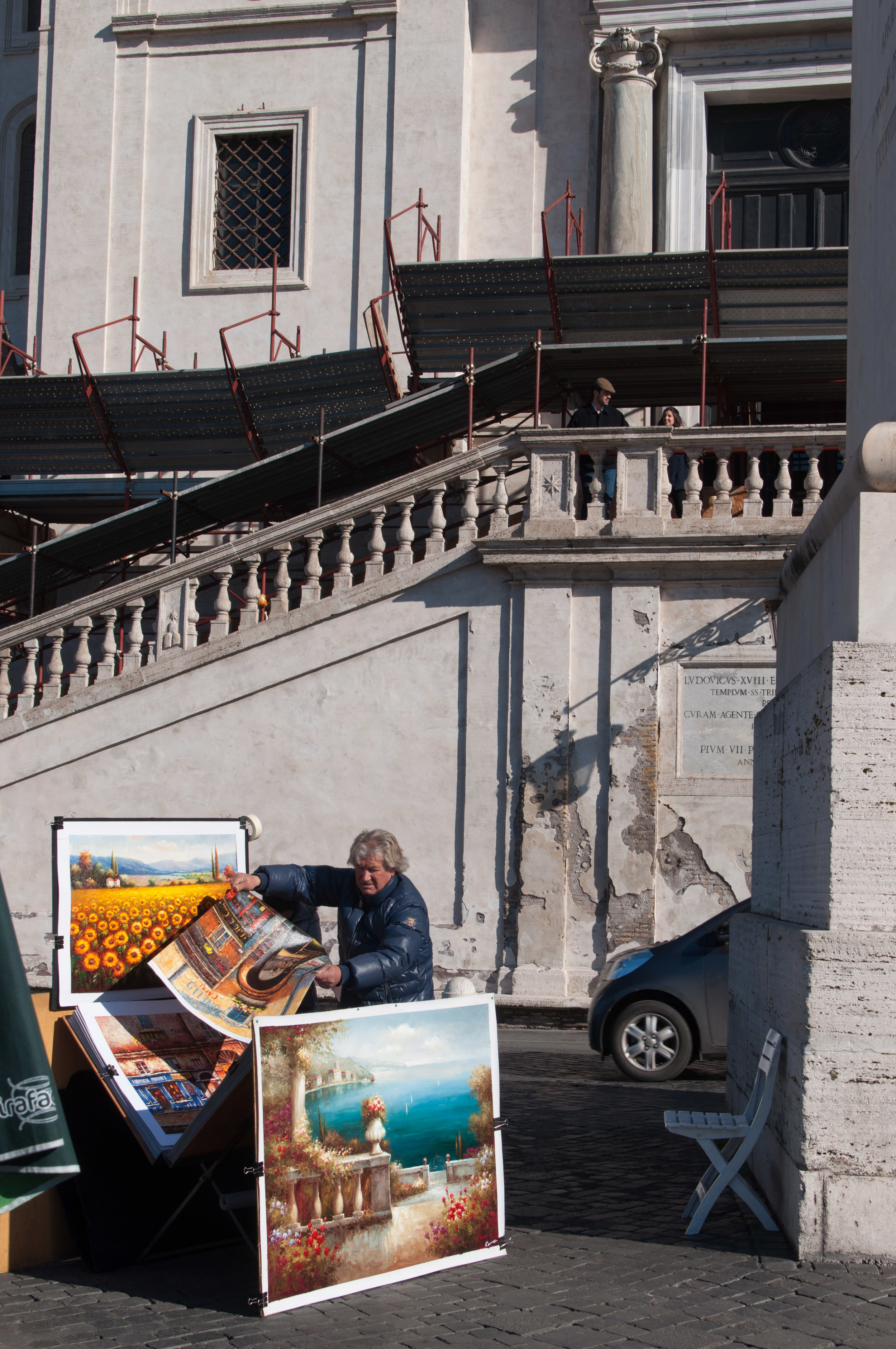 I left the Augustus exhibit with a caffeine-seeking group and ended up stopping, rather awkwardly, for a cappuccino at a random restaurant/café down a side street, across the way from a souvenir shop that proudly proclaimed its wares to be "MADE IN ITALY – NO CHINA". (had we continued on just ten more steps, we would have found the far nicer, more spacious random restaurant/café. oops.) The particular neck of the woods we were in was close to the Spanish steps, which we paid a visit to. We arrived at the top of the hill, where a number of street artists were selling oil paintings and/or doing on-the-spot portraits, and leisurely made our way down to the busy street below, where zillions of tourists were bustling about with cameras and shopping bags. This, supposedly, is one of the prime shopping areas in Rome, and we passed our fair share of expensive boutiques on our hunt for a place to grab lunch. I opted for a ham and cheese sandwich (see picture above). NOTE TO READERSHIP: under normal circumstances, I would never willingly choose to eat a ham and cheese sandwich for lunch (or any other meal), so that ought to show you just how good this particular one was.
We continued onwards to the Piazza del Popolo, which was partially obstructed by a giant stage for a Chinese New Year celebration. The park overlooking the Piazza was similarly closed off (for the most part) for an impending fireworks display, so our stay here was cut short by lack-of-places-to-walk. On our return trip, we grabbed gelato, again (it just never gets old!).
Saturday night's dinner: Fantasia di verdure and Ravioli al jenesaisquoi at Bruno's, one of several restaurants near the Centro to have become a hotspot for our group. And also two baskets of bread, the second of which we weren't fast enough to decline (they charge you for all the extras here).
While Sunday was mostly spent finishing up my homework for Monday, I did run out in the morning to track down the fabled Greek Orthodox Church in Rome. As one of my friends who had been to Rome previously kindly informed me, there happened to be one abutting the Forum. The church of San Tedoro, as Wikipedia pointed out to me, was given over to the Greek Orthodox community at the beginning of the millennium by then-Pope John Paul II. As such, the interior features an interesting mishmash of Byzantine iconography and western-style iconography. On future returns, I will be sure to bring my camera (as, uh, half the people there for Liturgy had brought their own cameras to take pictures during the service); the non-ancient surroundings by San Teodoro were likewise picturesque and peaceful, the perfect area for a post-liturgical stroll.
Speaking of the Forum, today marked the beginning of our normal schedule of classes. Though on Mondays, "class" entails an on-site lecture all morning long, rain or shine. Rain was the order of the day, so I had my first taste of attempting to take notes in a deluge without the aid of an umbrella. [PSA: mine has gone missing. If you come into contact with a black Totes umbrella, please bring it to room 1 on the third floor at your earliest convenience.] Our syllabus for the Ancient City course starts at the beginnings of Roman history, so our lecture today covered the early settlements on the Palatine Hill, in the Roman Forum, and on the Capitoline Hill. I must say, everything I have ever learned about Rome in previous courses makes much more sense now that I have visual aids to go along with everything.
Tomorrow we'll be going on our first all-day field trip, this time around to Tarquinia (subsequent trips will take us to Ostia, Ravenna, and beyond). Expect me to be too exhausted by the end of day to be able to report back on it straightaway.